Feminist Porn Site Helps Assault Survivors Rediscover Pleasure
Recently, rape survivors have been given a voice by the media, encouraged to speak about their experiences as a means of moving forward and of informing the public about the specific losses suffered at the hand of assault. Jessica Knoll, author of Luckiest Girl Alive, recently confessed on Lena Dunham's Lenny Letter that a crime detailed in her book — a violent gang rape — actually happened to her. A woman attacked by Stanford student Brock Turner voiced her anger over his lenient sentence on BuzzFeed. And these potent confessions are only the most recent in a wave of public outcries.
 In 2014, aware of discussion's healing powers, London nurse 
Pavan Amara
founded My Body Back, an organization devoted to providing health care services to rape victims. In addition to cervical exams and STI screenings, these services meet mental health needs; the organization hosts a quarterly meet-up called
Café V
, which aims to help women love their bodies after violence. Sessions have explored new ways of achieving orgasm, experimenting with BDSM, fantasies and flashback triggers.
Women were saying they wanted to be visually turned on, but they felt they couldn't watch porn because they found it was violent in nature and reminded them of when they [were] attacked. The Clit List Manager, Ella Eora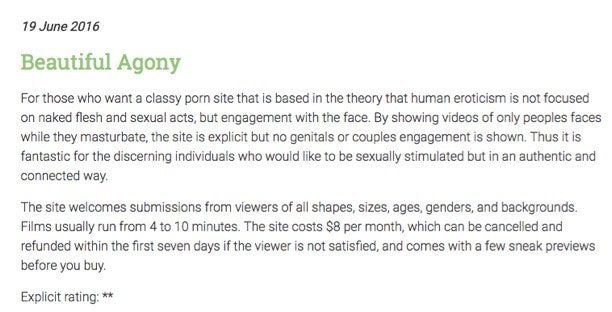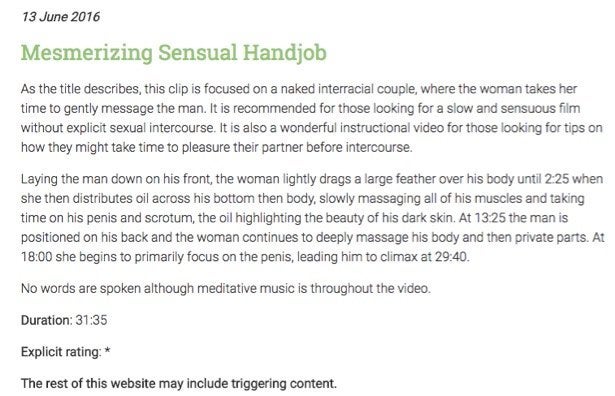 "Mainstream porn tends to be characterized by female actors that are young, overtly sexualized and very often treated with violence," Eora said. "We are focusing on porn that is body-positive where women are real participants who receive pleasure. As a result, any content that is misogynistic, objectifying, unethical or violent is not included."
The service comes at a time when women's porn-watching has finally become de-stigmatized. A survey written up by The New York Times last fall revealed that 1 in 3 women watch porn at least once a week. Women porn producers and advocates for feminist porn aren't just revolutionaries on the fringe anymore.
"We hope that this project will dispel the current articulation of porn being 'only a men's game' which cannot be used by women to explore their sexuality," Eora said.
But what, exactly, can make porn — notoriously objectifying as it is — feminist?
Aside from excluding actions that can be squarely categorized as degrading, The Clit List regards choice as key. Instead of excluding all videos featuring power dynamics like BDSM, the site explicitly labels each video with the content it contains — positions, phrases, role-played scenarios. Those labels allow viewers to browse safely.
"What is important is that women are effectively informed about the content of the porn so that they are empowered to make their own choices," Eora said. "If it's beneficial to women who may be accessing it, it's suitable."
(Visited 35 times, 1 visits today)